Adult Class
Sundays, 9:00AM
In the Chapel and on Zoom
Join us as we explore the film series "Marching from Pain to Possibility" on May 1, 8, 22, and 29.  Click here to watch the series trailer.
These films are invitations to enter into a journey of making sense of our deepest desires that comes from pain and woundedness. The discussion that follows each film offers ways to reflect and find that place of pain, and at the same time, that place of wholeness and healing. Practices will be suggested as invitations to examine both our wounds and the wounds of others and see how we might bring peace and healing. The desert is a place void of easy fixes, but it can also be where we find who we truly are.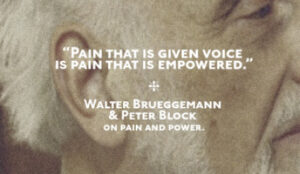 On May 15, the 9:00 class will feature discussion of mental health during the pandemic.
Science and Theology Group
Sundays, 7:00 PM
Zoom
Current book discussion: Belief Without Borders: Inside the minds of the spiritual but not religious
by Linda Mercadante
Contact Nancy Wellman to participate.
Wednesday Morning Class
1st and 3rd Wednesdays, 9:30AM
In the Chapel and on Zoom
Led by Pastor David Andersen
Join in person or online for continuing conversations on the book, Freeing Jesus, by Diana Butler Bass.  Topics of discussion during May include:
May4: The Way
May 18: Present
For questions regarding this series or concerning the Wednesday Morning Study group, please feel free to contact David W. Andersen.
Online option:
The SylvaniaUCC book group on Facebook is engaging in an asynchronous discussion of the same book the Wednesday Morning Study Group is using, Freeing Jesus, by Diana Butler Bass.  Contact Sheila Banerji if you have questions about joining this online discussion.
Thursday Evening Bible Study
Thursdays, 7:00 PM
Zoom
Led by Deacon Jennifer Vasquez
Why were the Hebrew Scriptures written?  Who compiled them? What do the repeating design patterns teach us about God and ourselves?
We are continuing to work through a Bible Project course entitled "Introduction to the Hebrew Scriptures."  Come when you can.  Discussion is based on a video presentation, so no prior knowledge is expected.